What to Expect When You're Expecting Review-Erin's Take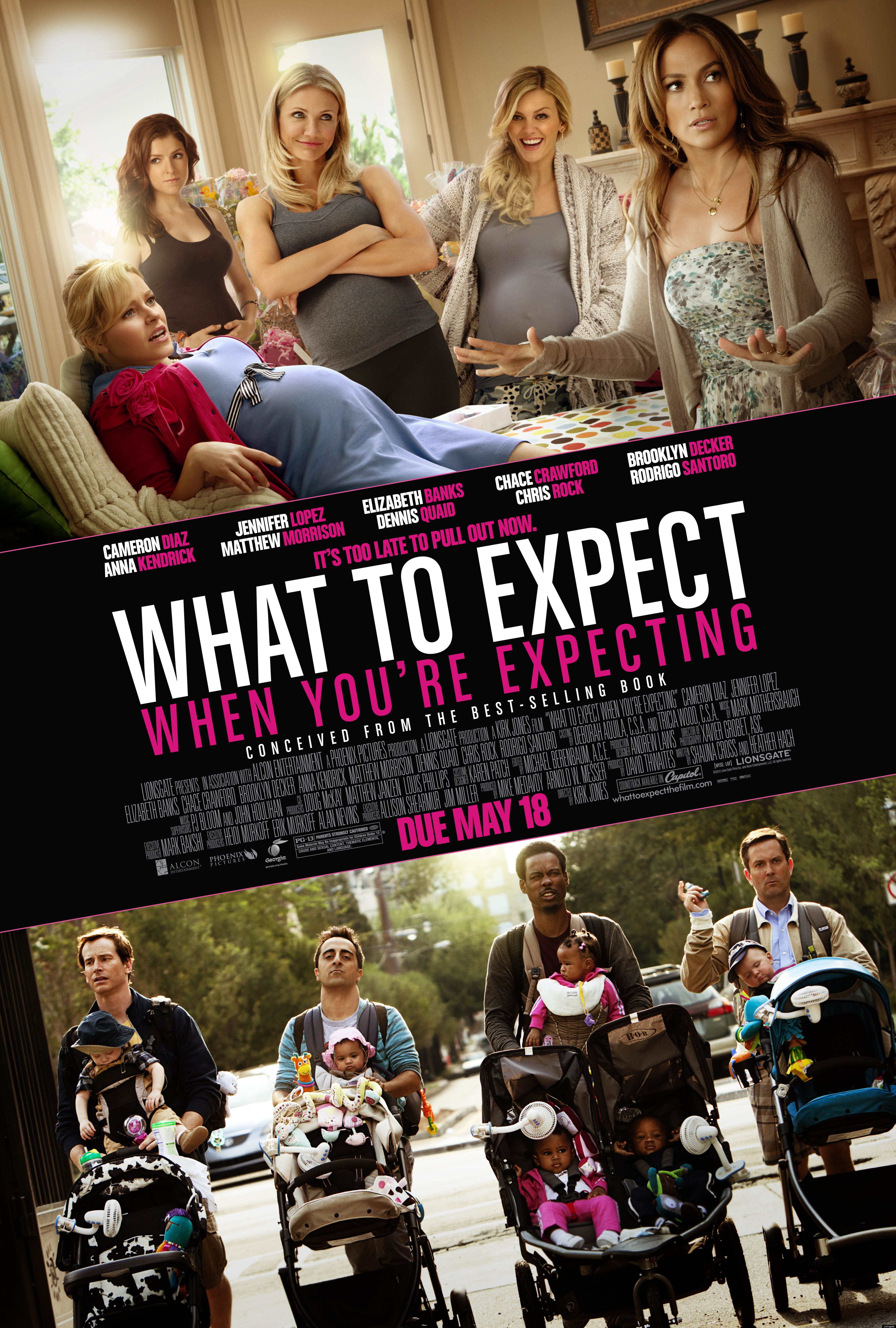 What to Expect When You Are Expecting is the story (or stories) of five woman who have no real connection to one another, outside of an extra "x"  chromosome (and an affinity towards reality TV). The sole reason that they are all in this movie is because each are on a journey for the same thing. Their techniques may be different, but the quest towards motherhood is imminent for all. Beyond that I'm not entirely sure how to sum up a film about a photographer, a reality TV star, a food truck vendor, a trophy wife, and a breast feeding advocate all trying to become parents. So instead, I'm going to let Chris Rock do it.
In an interview promoting the movie, he describes it simply as a "romantic comedy where people are having babies." That seems pretty accurate to me, but he goes on to expand on how it varies from other pieces in the same genre by explaining that, "most romantic comedies, people are trying to get together. This movie, they are already together and they are basically trying to get one more person into the party." And that pretty much sums it up.
Sure, there is personal growth, heartache, and humor stuck in there too, but detailing the plots of each character would be redundant. What to Expect is just a movie crammed with a collection of romantic cliches furthering the characters along in uninspired ways. There are moments that works, but anything salvageable is lost in the disjointed storytelling that happens when way too much is going on.
Cameron Diaz, Jennifer Lopez, Brooklyn Decker, Anna Kendrick, and Elizabeth Banks along with their other halves: Chace Crawford, Ben Falcone, Matthew Morrison, Dennie Quaid, and Rodrigo Santoro certainly try the best they can, but there is just too much going to ever feel like a cohesive piece. With so many characters to give plots to, there is no time given to flesh the characters out. They appear to each have their individual charms and certainly seem nice enough, but sadly, we never really get to know them very well.
The exception to this might be Elizabeth Banks, who while still an obvious character, was funny in every scene she was in. Beginning as a hyper version of a wannabe mom, dressed like June Cleaver, she lives her life around one word: ovulation. After fertilization occurs though, she quickly shifts into one of the least attractive pregnant women to ever be seen on screen. Even when triteness begins to rise to the surface, she plays both extremes will just enough sarcasm to get away will it, yet she is genuine in every moment single moment. A full feature could have easily been dedicated to her character alone.
Oh, I almost forgot about the dude's group. As if five unconnected plot lines weren't enough there is also the dude's group. A nerdy gang of fathers comprised of Amir Talai, Thomas Lennon, Rob Huebel, with Chris Rock as their leader. They walk through parks with their children in strollers complaining about the strife of fatherhood and find joy from living vicariously through Davis (Joe Manganiello), the macho, beefy, bachelor who bangs women in Costa Rica and brings pictures back for the guys to see. One would think they were just overkill to an already dense story, but the majority of truly funny moments come from the bro-mance that has evolved from these five random guys. They were added to the feature for no reason other than comic relief, but when moments turn unnecessarily heavy they are prepared with one-liners that happily cut the generic melodrama.
I can't determine why so many stories needed to be told, but this surplus ultimately kept possibly stronger stories obvious and mundane. It's unfortunate because the cast is strong, the film looks good, there are endearing moments, and enough comedy to fill, if nothing else, a slightly shorter film. If romantic comedies were graded on a curve, the film would inevitably receive a passing grade. Unfortunately, that is hardly a compliment. What to Expect When You are Expecting still has its purpose though. It proves once again, that quality and quantity are not synonyms.
2 1/2 stars out of 5. Directed by Kirk Jones. Starring Cameron Diaz, Jennifer Lopez, Elizabeth Banks, Chace Crawford, Brooklyn Decker, Ben Falcone, Anna Kendrick, Matthew Morrison, Dennis Quaid, Chris Rock, Rodrigo Santoro, Joe Manganiello, Rob Huebel, Thomas Lennon, and Amir Talai. Rated PG-13 for crude and sexual content, thematic elements, and language.