Movie Review: Damsels in Distress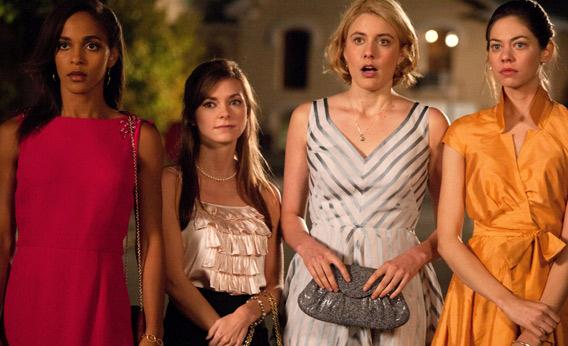 Watching Damsels in Distress, director Whit Stillman's much anticipated first feature in thirteen years, was for me something akin to seeing an old college flame again after a similar interval. The old charms, about which one had been so wild—in Stillman's case, the characters' earnest dialogue, which flows in uncharacteristically complete, literary and erudite sentences and paragraphs, their old-fashioned courtesies and even more anachronistic ethical and philosophical concerns, their awkward amorous stumblings cushioned by the genteelest of manners—remain largely unchanged, but strike one as disappointingly less appealing.
I was one of those cult followers who adored Metropolitan, Barcelona and Last Days of Disco, watched them repeatedly, and could quote entire scenes, and yet, twenty minutes into Damsels, I could only think, with dismay: Is he really doing the same thing again?
There is one major superficial difference. For the first time, the protagonists are female: a trio of collegiate beauties by the names of Violet, Heather and Rose. Violet, the very determined and opinionated leader (a sort of Alicia Silverstone in Clueless, with her lesser two sidekicks providing Greek chorus), is on a mission to civilize the disgusting and dullard male student body (in one of this movie's numerous small jokes that go nowhere, the frat system at this college is Roman, not Greek). Played by Greta Gerwig (always a welcome presence), Violet is an enigma and a never-quite-real character, despite the whimsical childhood trauma provided her. On the first day of school this trio meets the similarly flower-named Lily (Analeigh Tipton), a transfer student, and takes her under the wing and into their suite.
Violet and her friends are resolutely living lives according to their principles. These are not Girls Gone Wild. On the contrary, they wear ladylike dresses and heels, abhor the stench of their male co-eds, and run the Suicide Center, which provides support for the clinically depressed through donuts and dancing therapy. Such plot as there is revolves around this center, though I couldn't tell you what the story line actually is, having failed to perceive the outline of one aside from various entanglements with male interests, played by Adam Brody and Hugo Becker. There is even, more explicitly than ever before in a Stillman film, suggestion of sex (though only discussed).
Not that plot has ever been the point of a Stillman effort; certainly it has never been missed. The DIY shagginess and the very personal imprint of its writer/director's POV were a large part of of the charm of Stillman's 1990s trilogy. The precocious dialogue and self-involved characters and philosophical debates and whimsical moments (in particular, musical and dance sequences that point to yearning for an earlier, more magical age) are all there, but something has gone musty, and what was once adorably arch in the mouth of Chris Eigeman or Taylor Nichols (who plays a small cameo) now feels like a stale party trick that needs replacement. It's like seeing that old college boyfriend and realizing, in shock, that he's still telling that same story.
Most tellingly, none of the characters resonate. Despite the welcome preponderance of female leads, not one of them makes the mark of the quiet, yet strong-minded Audrey (Carolyn Farina) in Metropolitan.